Viol teaching in Schools with Warwickshire Music – a remarkable Music Service:
Warwickshire Music gave me an opportunity to teach the viol in schools on a weekly basis, supporting me and my students with group and individual lessons and consorts.
I would like to relay some of my experiences over 18 years of viol teaching, provide background and context in an attempt to answer the question –
"Why teach children the viol?"
In 1996 I moved to the Midlands and formed the 'Arden Consort' with keyboard player and music-  educationist, Val Brodie and recorder player, Caroline Jones.  We received Lottery funding to take Early Music into the community and gave concerts and workshops in schools, hospitals and hospices.  Val Brodie, who was recently employed by Warwickshire County Music Service (now called Warwickshire Music) to direct an Early Music Group, asked me if I would start teaching viols to a couple of students, using her treble and bass viols.  This was before the Early Music Shop started importing viols from the Czech Republic and as far as I know, viol teaching had ever begun in schools.   That was when I started learning how to teach the viol as up until that point I had only ever taught the cello from beginner to grade 8.
One of the most important aspects of teaching an unknown instrument such as the viol is to provide an opportunity for children to play to each other in a consort. CMS, at the time, were extremely forward thinking and supported me in doing countless viol demos in schools and at Music Centre concerts to enable me to recruit more players.
In 1999 the Viola da Gamba Society of Great Britain appealed to some of its members to loan viols to children and a few more children started on instruments in this way.  In 2000 Warwickshire County Music Service applied for funding from the 22b Standards Fund, set up by the Government, to give access to music for under privileged children.  By this time the Early Music Shop started importing instruments from the Czech Republic so now, at last, there was a source of instruments.
Coincidentally, a viol playing primary school teacher, Gillian Grason,  showed an interest in having viol teaching in her school in Stratford Upon Avon.  I remember doing a demo with some of the existing viol students and we had 38 children who wanted to learn the viol!  However, after the parental consent letters, that figure came down and we then selected 'musical' children after doing a few aural tests and asking them why they wanted to play the viol.  So by this time we had enough children to form a consort in a school and do 'Viol Assemblies' and play in other places to give exposure to the viol.   The more children I found to play the viol, the more instruments were purchased by Warwickshire County Music Service to feed their Early Music programme. This was a brilliant time of expansion under the watchful eyes of Senior Managers, Michael Williamson, Ray Hutchinson, Simon Grimshaw and something that is less likely to happen now in the current economic climate.
So how do you go about teaching an instrument to children with varying capabilities, with an approach that can be equated to other instruments, demonstrate children are making progress, and therefore graded?  A whole new strategy and syllabus was needed and it coincided with the Music Service re-defining their approach for all instrumental teachers with short, mid and long term planning.  This really helped me define what was important technically for each viol tutor.  The only way I could do this was to equate it to the technical requirements for the cello.   More of this later.
In 2003, I decided to go back to Trinity College of Music where I had studied modern cello previously, to primarily study French baroque music on the pardessus de viole and 7 string bass viol and be amongst viol players; after all I was asking my students to be on the receiving end of my teaching, so it was appropriate for me to do the same,  observing Alison Crum teaching and studying Alexander Technique. 
Exposure to live Music – 400 years of music in 40 minutes!
As part of live music in schools, Warwickshire County Music Service formed the Warwickshire Waits to promote their Early Music programme in schools.  Over a period of six years, Val Brodie, baroque violinist Michael Williamson, baroque flautist Hilary Haddon and myself,  travelled around schools for 15 days a year, giving 4 concerts a day.  We had families of instruments; recorders, viols, flutes and others including harp, psaltery to number about 38 in all.  We incorporated maths, history, science and theatre into these early music concerts and varied it enough to make it suitable for primary school children up to A level students (16-18,).  Therefore, 3500 children a year across Warwickshire schools had access to Early Music and heard music live on early instruments.   Unfortunately, we were all made redundant because of lack of funds.
The first 'Viol Player' viol tutor I wrote and was published  in 2005 for treble, tenor and bass.  Being able to teach the same students in groups of 2-5 and have regular consort sessions enabled me to get an overview of what they struggled with and what they found easy.  Viol technique developed in the same way as the standards set out by the ABRSM for cello graded examinations.  I based it on what it felt like on the cello to be a certain standard and transferred it to the viol.  All books have scales and arpeggios throughout and are a core part of the technique, but not as many as there are in ABRSM exams.  All musical examples are for bass viol, but are also available for treble and tenor viols and represent a small part of the technique learnt in each book.
Students – starting the viol before the cello
Over the years I have taught every kind of student a music teacher could expect from gifted students that go to Music College to study viol, to those where practice is a chore with no parental support.  One aspect that I will mention here is those students who started on viol from Year 4 (aged 7) and then took up the cello later.  The ability of these students has been quite outstanding from learning a fretted instrument before starting with a non-fretted type.  On average, it takes about 18 months to reach grade 1 on a cello and with starting viol first, it took just 6 months.  The hand shape that develops from playing on frets, with fingers equally spaced transfers well to cello.  The bow contact on the string also transfers well although there can be some confusion with up and down and push and pull bows.  However, looking at this aspect long term, I have found that it usually makes the student think about the bow more rather than less and how they use the bow on each instrument.  Also,  equating the viol bow to a tennis racquet (not literally!) in the way it feels with strong and weak (backhand) stokes, and referring to push and pull, lessens the confusion from up and down bows.
Learning the viol – the bigger picture
As well as equating levels of learning to other instruments, it's very important for children to have a hierarchy of playing to which they can aspire.  The medium for viols is the consort and for bigger groups within the Music Service, Tudor Band.   This is where Warwickshire County Music supported small numbers of viol players in different ability groups, which of course is not particularly financially viable. With weekly rehearsals, children developed musically and learned chamber music skills from a young age.  It is not uncommon for quite advanced players to find it difficult to play one to a part, even if they are accomplished orchestral players.  However, it's usually orchestral players that make the best consort players; they just need to be taught how to play one to a part and sometimes how to count! Early Music is known for complex rhythms and this is not something that can be learnt without regular practice.  Changing the beat from a crotchet to a minim, which is counter intuitive, can be very challenging for some youngsters.
Over the past 18 years we have had different levels of groups that also correspond to other instruments.  Junior, Intermediate, Area and County Youth viol consorts.  Concerts would be arranged where Junior viols would be on the same platform as Junior strings/woodwind etc. And the same for the other groups. This worked well when recruiting new players as it gave the viol consort exposure to other children.  Teachers organizing these concerts also soon learned that the viols were always first after the interval, allowing for tuning time.
A way of getting all our viol players together and providing recorder players a platform on which to perform came about when Tudor Band was formed.   We could put all the players of varying abilities together and create a big sound.  One year, Tudor Band performed at the International Early Music Festival at Greenwich and we had 48 children, 25 of whom were viol players.  Part of the inspiration for this idea of playing together was going to the International Festival of the Viola da Gamba at Asfeld, France.  The French Giant Consort usually consists of over 180 players, about a hundred of which are viol players ranging from children to adults.  We first visited this exhibition, which is held biennially, in 2002 and it was a highlight of our year.  If you compare other orchestral players who were eligible for a tour, an Early Music tour is as important in terms of having a 'cool' instrument and playing abroad.  For those advanced players of both recorder and viol Warwickshire County Music Service has the Warwickshire Waits and this group also has a feeder group, called the Early Music Group.  This group was founded by Val Brodie in 1996 and taken over by ex-Warwickshire student, Alison Kinder in 2005.
The County Youth Viol Consort, renamed by its students to 'Gutted!' has been in existence since 2002, when the original group was called Viol-o-city! The type of music played and performed by this group has ranged from simple dances to Lawes, from folk to Tangos and contemporary music.  The aim is to encourage all styles of music being played on the viol, so young people experience a broad view. Very often, contemporary music, written specifically for viols, was very popular, particularly Peter Seibert.
Gutted 2012 visited New York and collaborated with the VdgsA and John Mark Rozendaal, playing music from Fretwork's 'The World Encompassed' by Orlando Gough and in the same year students gave a concert on the Golden Hinde docked on the Thames in East London.  This gave the students an idea of what it was like on board ship at the time of Sir Francis's Drake's circumnavigation of the globe in 1558.
The Recession
More recently, with the recession, some viol students have given up due to financial pressure.  Some parents of school children really don't see much difference between their child playing the viol or violin – apart from the price of the instrument and this is not a great incentive to carry on with the viol.  However, there are many parents who appreciate the viol and the great opportunity their children are getting in learning how to play chamber music. How many viol players can say that they can play Gibbons duets without bar lines or a Lawes Fantasy – aged 12?
The following account is from a student I taught for 11 years, Jossi Nicholas:
"Being as it is such an 'unusual' instrument, it was a continuously exciting experience learning to play the viol.  I was constantly being asked what it was on my back and whither I was sure it wasn't actually a violin?  Saying that, however, I loved the fact, and still do, that I was involved in such a niche world and I feel so lucky to have watched and been a part of the viol's developing appreciation and presence in Warwickshire alone.
I started playing aged seven, after hearing my soon to be teacher and one of her students play in my primary school assembly.  Eleven years on I was still hooked and roughly five years after that I took up the cello.  Thanks to the musicality I had gained from playing the viol and the already strong relationship with my teacher, I picked it up with a kind of ease.
Playing the viol has taken me all around the world, with regular visits and concerts in London, France and New York, where we played with other viol players and busked all over the city and Ellis Island.
I always looked forward to our weekly consort practice and had the absolute pleasure of working closely for many years with some fantastic young players.  Not only did we gain recognition in Warwickshire and across the country, but rehearsing and performing as a consort was such joy and I feel our commitment to and understanding of the viol shined through in our playing."
Students Bella Marshall and sister Kit, both members of Gutted! along with Leah Edwards, are amongst viol players who achieved a high standard of playing on three viols, pre aged 18.  The sort of repertoire played at this level is, for example, mostly French including music by Sainte Colombe on Bass and Heudeline, on treble. I also use the Italian bass tutor by Paolo Biordi and Vittorio Ghielmi,  Metodo complete e progressive per Viola de Gamba, Vol I and II and the French tutor book by Jean Louis Charbonnier, L'art de jouer la basse de viole.  One student, Lucinda Bourne, played the Telemann Gamba from the Gamba and recorder concerto in a minor.  The transcriptions of Bach Sonatas for tenor viol, published by Sarabande, were also part of the repertoire played by students and Leah Edwards played a movement of the Bach Sonata in G major for her A level performance.
This account from Leah: "I started learning treble viol at the age of 13, and would fit in lessons after school, before orchestra, where I played violin. It exposed me to a new musical world that I was completely unfamiliar with. Within a year I joined the intermediate viol consort, and later progressed to the area and county level group. I found that I loved consort playing and the sense of autonomy that came with having one's own part. The small group size made it quite a sociable experience and I enjoyed having a say in musical decisions – it was completely different to orchestra with its hierarchical ranks and front-led instruction. I ended up learning tenor viol when one of our tenor players couldn't make one of our concerts, and bass soon followed when I became more interested in solo repertoire. Living in Warwickshire, I was very lucky to have lots of teachers living locally, and had 3 teachers during my school years. It also meant that I could hire viols for free or at a very reasonable rate through the County Music Service- without this I doubt I would have been able to learn tenor or bass as the cost of buying one would have been too high. Playing the viol allowed me to visit a huge variety of places (such as New York to play with players from the VdGSA, Asfeld in France for the International Viol Festival, York to perform in the gaps between the Mystery Plays, Greenwich for the Early Music Festival, plus many more) and make new friends, as well as being a great conversation starter! Now that I am at university I definitely plan to keep playing."
Students and Exams for instruments
The University/Music College entrance system in the UK works on students accruing a number of 'UCAS' points.  Examination Boards of the Royal Schools of Music and Trinity Guildhall all have long had acreditation, meaning that if students get a grade 6, 7, or 8 this automatically gives them UCAS or CUCAS points for Music Colleges.  Any student gaining one or more grade 8 or even Diploma can obtain multiple points to help gain entry to Further Education.  And why not?  Obtaining a music grade (qualification) demonstrates many qualities in ability, not only musical, but strength of character, application, diligence and determination, to name but a few.   (Some students I have taught have gone on to play music and achieve academically, where music can really be a welcome distraction to the pressure of exams).
However, a student studying viols at school, will not earn a single UCAS or CUCAS point, because there is no recognized exam system.  This seems very unfair to me and why I have gone to great lengths to make viol playing standards the same as other instruments.  Although we don't have 'grades' in the viol teaching in Warwickshire County Music Service, we do have 'levels' and 'units' by which incremental progress can be measured.
National Festival of Music for Youth and the bigger picture for the viol
Since 1999 I entered a viol consort in the National Festival of Music for Youth with the aim of giving young people performance experience and the viol exposure amongst other instruments.  About 10,000 children take part in this non-competitive national festival with regional festival concerts around the country.  Mentors offer positive feedback at the end of each session and the atmosphere is charged with youthful enthusiasm. The festival was a great opportunity for Rondo Publishing to commission news works for viols; Colin Touchin wrote 'Three Dances' in 14 parts, and Alan Davis's composition for viols and recorders, called 'Enlightened' is published by Rondo Publishing.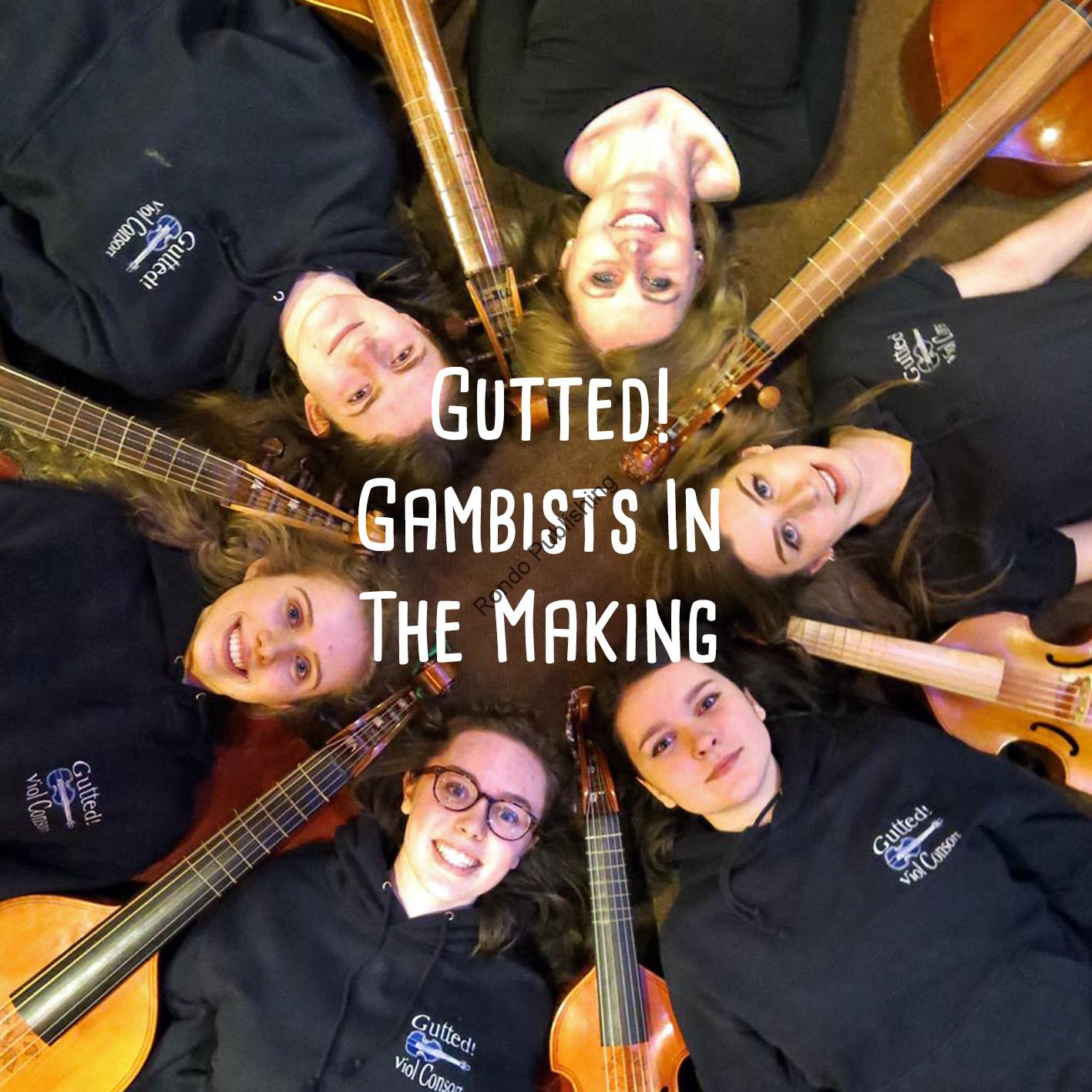 Gutted! was selected from approximately 200 other chamber groups to around 10 and have played at the National Festival for the past 4 years. In addition, Gutted! was presented with an award in 2013 for Innovation, in 2015 for Performance Practice and in 2016,  a Partnership Award with the Musicians Union, resulting in a workshop with Fretwork and time in a recording studio.  Gutted's!  CD 'Gambists in the Making' and is collection of diverse pieces including period and contemporary music, with J. S. Bach and William Lawes being amongst the group's favorites. Some of the tracks can be heard when viewing the Gallery.
In conclusion, and in answer to my question, 'Why teach children the viol?' I would answer 'yes'.  My main reason for this is the wealth of period music that is perfect for beginning any instrument, not just a viol.  Also, it puts music in context, starting with Renaissance repertoire and being part of a chronological musical process.  However, that doesn't mean that 'later' music is seen as the 'proper stuff',  it, Early Music, just gets more complex.  And this is where Warwickshire Music has allowed the time for players to develop playing chamber music, when economically this must have been difficult to justify.  So, by providing an infrastructure, with different levels of consorts and a large Early Music group, with other renaissance instruments, is all part of the necessary development strategy.  After all, it's good to have a large group so that modern orchestral players don't see the viol and other small groups as inferior.
Thanks to Warwickshire Music Hub for their continued support in the education of Early Music for young people with the Warwickshire Waits directed by Alison Kinder.
Jacqui Robertson-Wade is now based in North Devon and is enjoying giving regular concerts there.  She travels around the UK teaching mostly adults and runs courses with Alison Kinder for the Rondo Viol Academy.  Jacqui is available for educational projects with young people and viols.  In October 2017, she presented her tutor series, 'Viol Player' in Basel, Switzerland with students, Kit Marshall and Beth Edwards.